Why Getting A Hotel Body To Body Massage Is The Ultimate Luxury
liam
Whether you're in London or business or just need to let off some steam, getting a body to body massage is one of the best ways to do this. However, why settle for an incredible massage in a mediocre setting when you could have the full package? Here is why getting a massage in a hotel is the ultimate luxury:
1. It's discreet
It's understandable that you want to keep your massage experience between you and your masseuse. Although perfectly legal and understandable, not many people 'understand' the dynamics of a body to body massage and can often be judgmental. Incall massages are discreet, but they cannot protect you from bumping into colleagues, friends and family. Then what will you say if you're seen leaving a massage parlour with rosy cheeks and a smile on your face? Booking a hotel room for the night solves this problem. Hotels have a strict discretion policy and will never forward information about your stay onto someone else. Similarly, they do not object to masseuses visiting guests. Essentially, you can enjoy your massage in peace without getting caught!
2. It's easier
The best part about staying in a hotel is not having to worry about tidying up. You are paying for someone to do it for you, meaning you truly relax for the first time in a while. Whilst home visits may be cheaper, they are definitely more stressful. You have to clean and tidy before the masseuse arrives, ensure your housemates won't interrupt and of course, deal with the mess afterwards. However, at a hotel, all you need to worry about is you and your masseuse- the rest is sorted.
3. You and your masseuse can enjoy a shower together
Unless you're pretty damn well off, the chances are your shower and/or bath only has enough room for one. This means you can't enjoy a relaxing or even sexy experience with a partner or masseuse getting wet and wild, because it'll be far too cramped and awkward. Hotel bathrooms on the other hand, are generally rather roomie. The bathtubs are generously roomy, and the showers are often the size of two combined. This means you and your beautiful masseuse could have some pre-massage fun getting hot and steamy in the shower. Even if you don't want to get frisky just yet, sharing an intimate experience with your masseuse before the session is an excellent way to put your nerves at bay and become accustomed to her incredible body. If you're nervous or apprehensive, a shared bath or shower will certainly change your mind!
4. There is more room for the actual massage
Body to body massage is a style that involves a lot of close body contact and movement. Your masseuse will arrive with massage oil and with use the lubricant as a means to slide all over your naked body. However, the one problem is that you need plenty of room for your naughty slip n slide, but that isn't always possible. Whilst double beds do suffice space-wise, you'll not be able to enjoy a care-free body to body massage in most cases. The lack of room will make grinding all over your body difficult, and your masseuse will probably have to restrict her movements in order to avoid falling off the bed. Hotel beds, however, tend to be larger. More on the super-king side of the spectrum. This means yourself and your beautiful massage can roll around as much as you want without worrying about hurting yourselves. That's one way to kill the mood…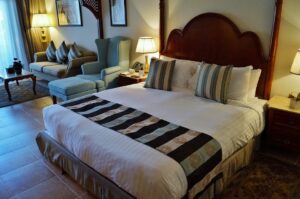 5. It's special
If you live in London, the chances are you're struggling to get by on ends meet. Treating yourself is a rarity, and when you do, it often falls short of expectation because you do not allow yourself to truly go all out. Arranging your body to body massage at a hotel truly is the biggest luxury. Hotel offers and discounts are easy to find, but you'll feel like you're on vacation when you're surrounded by fresh Egyptian cotton towels, a spotless room and a mini-fridge full of champagne. If you want a truly special experience, do not let your fantasies fall short by calling a masseuse to your home- splash out a little more and tick something off your bucket list.
If you would like to book your outcall b2b massage London