Get A Massage To Combat Your Stress
liam
Often when you face a difficult or challenging situation your body endures stress. Stress can cause a variety of physical changes as the body goes into a 'fight to flight response' mode. This affects individuals in different ways, but the main symptoms include increased heart rate, muscle tension and sweating. Once the problem passes the physical effects start to ease off. However, regular stress can take its toll mentally and physically, causing a range of long-lasting symptoms. These can be:
Lack of self-esteem
Feeling anxious
Headaches
Muscle pain and tension
Sleeping troubles
Though there is no cure for stress, there are a variety of stress-busting things you can try to help ease the effects. These range from sharing your problems with your loved ones, taking part in regular exercise and making more time for your favourite activities. Many are not aware of the wonders massage therapy can do for stress relief. So here we are to tell you more.
How does a massage really help?
A common symptom of long-lasting stress is anxiety.  This can be caused by money worries, relationship troubles and phobias. However, researchers from the Umea University in Sweden have found skin-to-skin contact to help eliminate anxiousness. The study showed that slow and soft strokes deriving from Swedish massage to help flush out negative thoughts and replenish them with positive ones. Massages in which the therapists wore gloves were concluded to be less effective.
Furthermore, the researched found the therapy to stimulate the pregenual anterior cingulate cortex, this being a region in the brain which controls the sensations of pleasure and happiness. Decreased blood pressure and enhanced relaxation were also found as positive effects, which helped eliminate anxiousness.
Stress-related headaches are common, with the reason for them widely varying. It could be anything from carrying out a hard task at work or struggling to get your child to sleep at night. However, headaches relating to stress can be easily put to bed with a massage. Scientists have found soothing effleurage strokes to increase the body's endorphins. Endorphins are often nicknamed 'the body's natural painkiller' as when they are triggered, they mask the pain signals from entering the brain. This ultimately eliminates headaches.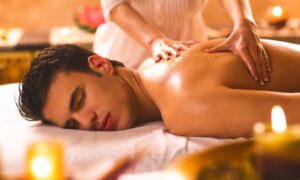 And if you thought generic Swedish massage therapy was good for combatting stress, you should add the erotic elements for even more relief. Studies have proven that participating in sexual activity is one of the best mechanisms for relieving stress. Some scientists believe it to be even more effective than over-the-counter painkillers. What a claim!
Muscle pain and tension tends to be the first onset symptom of underlying stress and is usually found in the neck, back and shoulders. Your body usually responds to stress by tensing, which causes knots in the muscles which can lead to painful adhesions. A trained therapist is able to find the build-up of adhesions in your body, before carefully rubbing them out for the most unwinding stress relief. A therapist's touch also promotes the flow of oxygen and blood, which ultimately makes the body feel lighter, refreshed and rejuvenated. Regular massage therapy will improve posture, flexibility and range of motion – which can be affected by long term stress.
Sleep problems are one of the most common issues which can trigger stress. Not getting enough zzz's can often affect your daily activities and stimulate a low mood. However, a relaxing massage at the end of the day stimulates the release of the 'sleep hormone' serotonin. Serotonin is a vital component for unwinding as it allows the brain to switch off from daily grinds. If you're struggling with sleep due to stress do ensure you seek massage therapy. Taking part in daily activities will only undo the benefits of the massage.
Stress is affected by everyone at least once in their life. However, you don't need to suffer in silence. At Sensual Adventure, we offer a range of massage services including Nuru, sensual and cheap body to body massage in London which have been proven to unleash all of your unwanted stress and tension. Book your service for incall or outcall across the London area today by calling 07920426076