7 Things To Know Before You Try A Body To Body Massage
liam
What do you imagine of when you think of a body to body massage? Is it two hands sensually rubbing fragrant massage oil all over your bare skin? Is it the feeling of someone's naked body and all of their curves and edges sliding against yours? Or does your mind wander to what something as erotic as this might lead to? Whatever you think of – whether it's tender loving or daring seduction – a body to body massage is a very sexy, one-of-a-kind experience. And if you're here, you're probably interested and want to try it out.
If you're an erotic massage newbie, a body to body massage, also known within the circles as body2body to b2b, is a unique style where the masseuse uses her body to massage the client. It's very similar to a Nuru massage, but instead of gel, a body2body uses oils. It's not as slippery as a Nuru massage, but it's just as erotic and fun. Because of the naked full body contact, a body to body massage is highly sensual and arousing. The same old foreplay routine can get old and boring. A body to body massage is perfect for fixing that – it's the ideal prelude to intercourse or a non-penetrative way of providing sexual pleasure.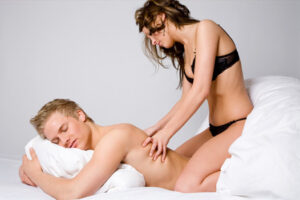 A body to body massage is the ultimate way to be kinky, try new things and live out your sexiest fantasies and desires. But before you try one, know that there's so much more to this massage than 'dry humping'.
Erotic massages focus on exciting the whole body, aiming for arousal. Although orgasms aren't the goal, they are always welcomed. The aim of an erotic massage is to discipline the mind and body through sexual pleasure. They are based on the idea that mental strain is linked to physical strain and that pleasure has the power to cure them. Erotic massages are also ideal for sex therapy – their highly sensual nature allow them to help with intimacy issues. Body to body massages, for example, involve such close bodily contact that they help with the creation and maintenance of relationship bonds. This helps partners connect on a mental and spiritual level as well as a physical one.
Body to body massages and other erotic types, however, are art forms that you can't just try spontaneously without researching beforehand. Professional erotic masseuses have undertaken training before they're allowed to practise. Body to body massages are particularly tricky although the therapists make it look easy. So here are some things you should know before you try a body to body massage.
. Get everything that you need
You don't want to get into the massage and then realise you forgot to get something. What a buzz kill that would be! For a body to body massage, you'll need a bottle of massage oil, two bowls of warm water and towels. Massage oil can get everywhere and perhaps soak into bedding. It's easily washed out, but if you want to avoid changing your sheets and minimise the cleaning up time, use an air mattress.
Also, be aware that some people may be allergic or sensitive to massage oils (particularly the scented ones), so always do a patch test first. Some women are more susceptible to urinary infections than others, so it's safer to switch to sexual lubricant if and when you're manipulating the sexual areas.
2. Do your research beforehand
A body to body massage isn't a walk in the park, so make sure you've researched them before you try them. Google them, read up on them and watch some instructional videos to see some of the techniques you could try. It'll inspire you and make the massage easier to perform.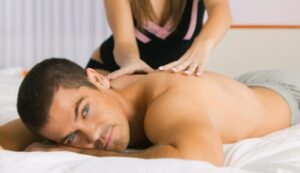 3. Leave plenty of time for the massage
A body to body massage is supposed to be a slow and extremely sensual experience, so make sure you set aside plenty of time – an hour, at least. Always prolong the pleasure, so slowly drag your body against your partner's to create maximise the arousal. Every stroke, grind and slide should be frustratingly slow.
You'll also need time to set up as well. Float the bottle of massage oil in a bowl of warm water and always pour some between your palms and rub your hands together before applying the oil to the skin (it feels more pleasant). Keep another bowl of warm water and towels sitting near you, so cleaning up is easier and you can wash your hands before touching the sexual areas.
4. Relax and be confident
It's difficult not to feel self-conscious when you're straddling your partner and sliding your oiled naked body against theirs. You'll probably feel silly when you grind your crotch against theirs like a pornstar. Everyone has body insecurities, even the professional masseuses, so just breathe and don't be scared. Remind yourself that you're the sole reason for the aroused state of your partner – yes, you did all that.
5. Laugh it off
It's important to have fun during an erotic massage. It doesn't have to be totally serious. You might slide off your partner's body or they might accidentally elbow you in the side, but just laugh it off. Have fun with it!
6. Don't overthink it
Relax your mind and let go. Don't lie there, grinding and thinking about all the work you have to. Surrender to your senses and feel all of the pleasure the body to body massage is giving you. It's the same for your partner. A body to body massage is meant to awaken your senses and revitalise your body, so just let it.
7. Try a professional body to body massage
If you want to experience a proper Cheap body to body massage in London, then try one, from one of our professional outcall masseuses. We offer an outcall London massage service starting from £120 an hour.