'Stop Dumbing Down Lingam Massage As A Handjob!'
liam
Are you constantly referring to Lingam massage as a glorified handjob? Well, stop, Lingam therapists are sick of It! London masseuse Kitty Lui is taking a stand for the oriental massaging world, urging all men to stop dumbing down Lingam massage as a handjob.
Why do masseuses think it is offensive to call a lingam massage a handjob?
Let's get straight to the point with this. You wouldn't call Jennifer Anniston an ordinary-looking woman and you wouldn't refer to Pulp Fiction as the run-of-the-mill film, so why are so many of you labelling Lingam massage with the same bang-average connotations as a handjob? It's ultra-ridiculous and is something that angers not just me, but my other fellow masseuses in the industry.
Lingam therapists, including myself, work extremely hard to perfect our massaging talents before offering the Lingam service. To become a Lingam therapist, you have to apply for a licence. The licence shows that you have been trained in massage therapy in a recognised Tantra school. At Tantra training school, you are only taught by the best – who give you relentless hours of training in the art of romance, Tantra and seduction. Believe it or not, there are more than 500 strokes to be learnt as part of Lingam massage! Once graduated, we move to various professional massage parlours across the globe to showcase our talents to gentlemen around the world.  Of course, anyone can conduct a handjob but we offer SO much more than that. We practice tirelessly to become a Lingam masseuse and is not something we offer to make a quick buck.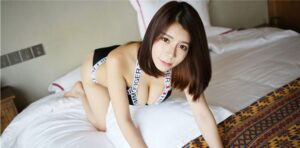 What is the purpose of a lingam massage?
Many people believe the purpose of Lingam and a handjob is the same, to gain arousal which will ultimately lead to orgasm – but this is completely not the case. The principles of Lingam massage derives from thousands of years ago, with Tantra ideologies teaching us that the male physique is a temple and the Lingam (penis) is the most sacred area of the body. The sacred area should be worshipped and the main method of doing this is massage. If orgasm is achieved, then it's a bonus – but it's not the sole purpose of Lingam therapy. As Lingam therapists we aim to harmonise the body, mind and soul for the receiver to experience euphoria and self-actualisation. Regular Lingam sessions will make you feel more positive, less stressed and relieved of aches and pains.
What will actually happen during my massage?
While handjobs are usually done abrupt and quick, this isn't the case for Lingam massage. We often recommend clients to book a one hour slot for Lingam. To begin the session, we ask the clients to undress to their comfort level so we can begin with a full body massage. We start by drizzling the body in oil and using effleurage and petrissage strokes all over the less sensitive areas, including the neck, back and shoulders. Once we feel that the receiver is fully relaxed, we navigate our attention to the erogenous zones. All Lingam masseuses are experts in a technique known as edging. Edging is the motion of building the intensity of pleasure, by moving closer and closer towards the most sensitive zones between each stroke. This not only delays orgasm, but gives the gentlemen overwhelming ecstasy-like feelings. Lingam massage will send shivers down your spine, make your pulse race and cause your toes to curl like never before. It really is the real deal and to compare it to a quick 10 minutes of hand relief is barbaric.
Lingam is as much about the setting than the massage itself. You won't just be lying on a tired double bed as a masseuse gets your end away. Lingam therapy rooms are state-of-the-art and often mimic the hotel rooms you'll find in the like of The Landmark or Grosvenor House. Complete with an ultra-comfy king-sized bed, mood lighting and marble walk-in showers, Lingam is a treatment which is sure to pamper you like a king. Let's be honest, Lingam treatment rooms are a far cry to the dark, dingy spaces you'll find sex-workers offering a quicky handjob.
So yeah boys, stop dumbing down our Sexy Lingam massage London services as ordinary handjobs! If you are ready to dive in and experience the wonders that the luscious Lingam service has to offer then look no further than the five-star pamper palace which is VIP Outcall Massage London. As well as offering Lingam for incall, the gorgeous team of oriental therapists also offer the sensual service for outcall across the city. Lingam packages are available at a competitive rate of £120 per hour. So there's only one thing left to do – call the friendly reception team on 07920426076 to book!