Lingam Massage: What It's Really Like To Get One
liam
Ever stumbled across the phrase, 'lingam massage' before? If you have, you'll already know that this massage style falls into the erotic category. If you haven't, well, now you know! Lingam massage is an oriental style massage had focuses on stimulation of the 'lingam'; or in simple terms, the penis. The thing is, lingam massages sound all well and good, but in reality, what are they really like?  We approached some of our clients and asked them about their experiences with lingam massage. They kindly agreed to share some of their thoughts, but have asked to remain anonymous. As such, we will not be naming the subjects of this post for discretionary reasons.
How old were you when you first got a lingam massage?
Gent A: I was pretty young to be fair- 23. The lads paid for me to get one in Thailand when we were on holiday for my birthday.
Gent B: I was 36 years old.
What made you get a massage?
Gent A: Well obviously for me I didn't really have a choice in the matter, ha. They'd kind of done it as a joke in the beginning, but I actually really enjoyed it so…. Winning!
Gent B: I was watching porn one night and came across a 'massage style' episode. It turned me on more than I thought and I began to wonder if it really happened like that in real life. I literally typed it into Google and my screen was overrun with masseuses and salons advertising their services.
What was your relationship status at the time?
Gent A: I was single at the time- thank god. I don't know if I'd have felt right going through with it if I had a girlfriend to be honest.
Gent B: Yes, I was, but my girlfriend at the time was fully aware with it. We agreed to both give it a go. She got a Yoni massage at the same time (it's the girl version).
Were you nervous?
Gent A: Of course I was! Although, being a kid and all, I acted like the big man. Christ yeah I was shitting myself. The masseuse even told me to slow my breathing down at one point.
Gent B: Surprisingly no. Then again, I'd had a very adventurous sex life up until that point. The massage was pretty PG in comparison to some of the things I'd got up to.
How did the session start?
Gent A: Well my masseuse refused to touch me until I showered which was fair enough. Luckily there were facilities in the salon. After I showered, I was instructed to lay face down on the table where she began to give me just a normal massage. It helped to relax me a lot.
Gent B: the masseuse arrived at my place and I invited her in. She was very polite, beautiful and petite. I liked that. I had already showered, and so she began setting up her equipment right away. She lit some candles and put on some relaxing music. She directed me to the bed and asked me to lie on my stomach where she began massaging me.
What was the main massage like?
Gent A: Haha well, what can I say? Yeah it was amazing. Like, probably the best sexual encounter I've ever had to be honest. She didn't dive into the dirty right away; she sort of teased me for a while. I was so so relaxed so everything felt 10 times more sensitive than normal. I'd imagined it to just be a really good hand job, but it was far better than that. Id properly blew my mind (and my load haha sorry for the vulgarity).
Gent B: The session was intensely relaxing for me and very sensitive. Like I said, I'd done some crazy shit in my time up until that point, so it wasn't necessarily the most sexual experience of my life; but it was certainly the most erotic. Everything is slower and more intense; and it just makes the whole experience feel more surreal- but in a good way. It was great.
Did you 'finish'?
Gent A: Oh god yeah. I probably could have after 5 minutes but she wouldn't let me, the tease!
Gent B: I did, yes. Right at the end. It was a very intense orgasm. One of the best one's I can remember to be honest.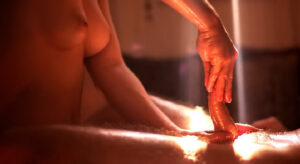 Have you ever had another one since?
Gent A: I have yeah; I've had a fair few since then. I've experimented with different styles, such as a Nuru and a Tantric massage, but the lingam massage is still my favourite. I try to get one in London every 6 months if I can, but it's not as easy now I have a partner. We've only been dating for a couple of months and I haven't had one since we've been together. Not too sure how to approach the subject!
Gent B: I've never had another Lingam, but I have had a prostate and Body to Body massage since. They're all amazing, yet very different too. I wouldn't be able to choose a favourite.
Would you recommend lingam massage to your friends?
Gent A: Definitely, I already have. A couple of them get them on a regular basis too. Don't get me wrong, I understand why people are hesitant to try. I probably would have never explored it if I hadn't been forced into it; but I'm obviously glad my friends did that.
Gent B: Of course. Oriental massage is natural and perfectly healthy. I would recommend it to anyone who wanted to explore their sexuality and experience new things.
If you could give our readers one word of advice, what would it be?
Gent A: Don't get bogged down with the taboos surrounding oriental massage. They're all perfectly legal and far more spiritual then most people imagine.
Gent B: Always go into it with an open mind. You'll be surprised how wrong you can be. Even if you go into it convinced you'll feel uncomfortable from start to finish, you'll probably feel the opposite way. Lingam massage has a wonderful way of proving people wrong.
If you've been inspired to get an outcall lingam massage London, then be sure to call us and book yourself in with one of our stunning Asian lingam massage specialists today!