Carve Out Sometime This Halloween For A Lingam Massage
liam
Ah Halloween, the only time of year we take our kids trick or treating, hopelessly try and carve a pumpkin and dress up in a ridiculous costume with face paint. Here at VIP Outcall Massage London, we believe that the 31st October celebrations aren't just for the children and believe adults should embrace the hauntingly amazing celebrations too. Therefore, we invite you to spice up your Halloween with a Lingam massage and here's how…
The masseuse will lick your penis like a toffee apple
If you're not sure what a Lingam massage is, it's essentially a treatment which pays full focus to your manhood. There are more than 500 strokes which make up a Lingam massage, which include cupping, jerking and sucking. To really get into the Halloween spirit, the masseuse will treat your penis like a toffee apple. Allow her to drizzle toffee flavoured lube all over your manhood. She will then use her voluptuous lips to press, lick and suck all over your erogenous zones as she pleasures you into ecstasy. A Lingam massage with a toffee apple twist certainly helps to boost up the sexiness.
Ask the masseuse to dress up
Let's be honest, asking your masseuse to dress up can really enhance the naughtiness of a massage and while it's Halloween it's only fitting to find a spooky outfit. During this time of year, most erotic massage parlours have a specialised Halloween costume box in which you can cherry-pick your favourite costume for your lady to wear. From playboy bunnies, sexy cats and daringly delicious devils, the options are endless. Allow them to parade around the room before performing your own personal striptease, as she gets naked right in front of your very eyes. Halloween is the new Christmas!
Ask for pumpkin-spiced candles
Scented candles are an added touch, which can boost the romance, intimacy and passion of a Lingam massage. However, as its Halloween forget lavender, chamomile or vanilla and opt for a pumpkin spiced scent instead. Not only does it smell amazing, but it also oozes romantic, relaxing and stress-easing properties too. You're guaranteed to leave the parlour feeling like a new man!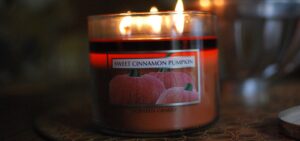 Choose a hauntingly amazing playlist
It's pretty popular for gentlemen to opt for background music during a Lingam massage, as it helps to boost the sexy mood.  As it's the most haunted time of the year you should really opt for a Halloween theme playlist. No, we're not talking about the ghostbusters or Halloween soundtrack (think sexier!) Some of our recommendations are 'She Wolf' by Shakira and 'I Put a Spell On You,' by the good old Annie Lennox. The exhilaration is guaranteed to light the room up, as you indulge in the raunchiest of passion.
Indulge in a Halloween beverage
Let's be honest, what is Halloween without tucking into an alcoholic beverage! The good news is that during the spooky festivities many erotic massage parlours relax their alcohol rules and often serve up some sweet drinks for you to indulge in before your massage takes place. On arrival at many parlours, you'll be welcomed by a hostess who will invite you to help yourself to a drink of your choice. Popular Halloween drinks include red wine, bloody Marys and blood orange gin. Not only are these beverages super tasty, but they'll also help you to unwind and relax – just what you need before a Lingam massage.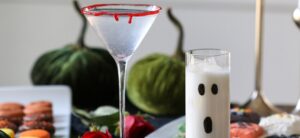 Where can you book a lingam massage this Halloween?
Here at VIP Outcall Massage London we hugely recommend that you carve out some time this Halloween for a Lingam massage and we know of just the place. Introducing the plush Asian massage parlour in the heart of London city, here you can enjoy an exhilarating Halloween Lingam massage which won't break the bank and is the tantric lingam massage london service. Prices start from as little as £120 with happy ending and £165 full service. If you're a little strapped for time or have a more hectic schedule, then we also offer an outcall service in which we can bring the magic to the comfort of your own home, hotel or office space. If you're interested, then please feel free to call us for a quote and more details. Happy Halloween guys and can't wait to see you soon!