Candles Aren't The Only Thing That Ought To Be Blown On Your Birthday….
liam
This year, why not treat yourself to something you'd really enjoy; get yourself booked in for a lingam massage.
A lingam massage is a perfect massage to celebrate another passing year, why? Because lingam massage is all about honouring the body… honouring one body part in particular…
If you are not already familiar with lingam sensual massage it is an erotic massage style that originated within Hindu and Buddhist teachings. The word 'lingam' derives from the Sanskrit word and translates in English to mean 'penis'. That's right; this sacred erotic massage style is all about honouring and worshipping the penis – and what a better time to celebrate your own special member than on your birthday?
If you are still not convinced, here are five reasons why lingam massage is the perfect birthday treat:
1. Lingam massage brings out a heightened sense of sexual pleasure
The original teachers of Lingam massage worked under the belief that within the body lays a powerful energy (in the spiritual bodily realm) and that by being exposed to lingam massage, you (the client) are given the capability to release your soul from its mortal shackles, opening you to this mystical, mind bending degree of pleasure. The originators of lingam recognised that by opening up the body in this way pleasure portals within the body that may have lay dormant your entire life can be activated. This activation is the life-long gift of lingam, improving sexual pleasure forever.
2. Lingam massage teaches you how to control your sexual energy
Lingam massage is interesting in the way that through the pleasurable relaxation of the massage you will experience a sense of removal from the outside world; your stresses, worries, concerns will go out the window. This new space, away from the distractions of life, during the sexual pleasure of lingam massage will enable you to focus solely on your own sensations. Every touch, every movement will feel heightened and the sexual energy that normally lies in your genital area will spread around your body – you are now in control of your sexual energy and can experience sexual charged ecstasy in every area – from your fingers to your toes.
3. Lingam massage gives you the best orgasms ever, like for real
By allowing your body to reach this level of complete unguarded bliss, you will not only find yourself being able to control and navigate the building sensual energy inside you but you will discover as it builds, bigger and bigger, swelling around your body, on release (ejaculation) your body will convulse and you will experience a total submersion in to pleasure – this is similar to the female orgasm and one that can go on and on.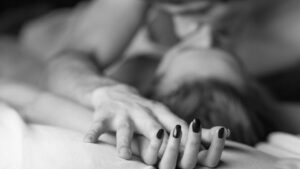 4. Lingam massage cures erectile dysfunction / early ejaculation and endurance problems
Ever wanted the stamina of a porn star? Lingam massage – by focussing on the penis and being in the careful hands of a lingam expert enables you the opportunity to get effective treatment for issues regarding the lingam. Using edging techniques and other specialist strokes the masseuse can wean out any deep-rooted bodily issues. This is an excellent gift for yourself on your birthday- enabling you the freedom of sexual confidence for the year ahead.
5. For the extra extra special birthday treat – maybe a decade birthday – you can get lingam massage WITH Four Hands
If you really want to have your mind bended, in an unforgettable and totally enjoyable way, then treat yourself to a lingam massage with four hands. 'Four hands, what's that when it's at home?'- I hear you ask… Well, four hands massage says what it is basically, with this massage instead of having one masseuse massage you – you get two. The power of two masseuses creates an intense vortex of pleasure that is inescapable. Every inch of your body is being treated at once. Massage teachings discovered that the brain has two halves; the responses of these two halves are reactionary to the side of the body in which they are connected. By getting massaged on both sides of your body at once both sides of the brain become totally consumed in pleasure. People that have experienced this luxury – next level – erotic massage describe the feeling of being out of body bliss, you feel as though you are floating, in a dream-like euphoric way. Match this with the excitement and intense deep-rooted pleasure of lingam massage this really won't be a birthday you will forget.
Of course, it is entirely up to you how you spend your birthday. If you wish to spend your birthday having drinks with people you barely care to spend time with on a regular day, forking out for a lavish meal, drinking in excess and waking up with a terrible hangover – or worse messaging your ex in the hope you can rekindle something that you once had… it's your birthday and how you spend it is your choice.
BUT now that you are in the know—doing anything that ISN'T getting a lingam massage just feels weird doesn't it?