What Is A Four Hands Massage?
liam
A four-handed massage, also known as 4 Hands, is a type of massage therapy that comprises of two therapists working in synchronised motion with each other. The masseuses will simultaneously stimulate the body, creating a choreographed massage. There are different styles of massage to choose from and the majority of spas and parlours explain the options so clients can choose a style that caters best to their needs.
Generally, this kind of massage is more expensive than the other types as there are two masseuses who must be reimbursed for their time and skill. Not all massage parlours and spas offer a four handed massage, so people who are interested in getting one may need to ask around.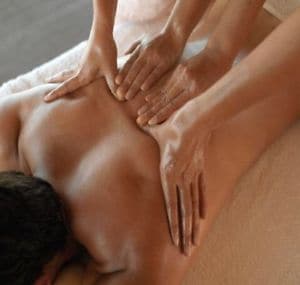 What happens during a 4 Hands massage?
A four hands massage typically involves the two therapists mirroring each other's movements. One therapist will take the lead and the other will follow. When one massages the right leg, the other will massage the left. In this way, both sides of the body will be stimulated at the same time.
Alternatively, each masseuse may focus on a different area of the body. For example, one may work on the upper body while the other focuses on the lower. Likewise, this also offers the chance for the full body to be simultaneously massaged. This results in holistic relaxation – something that's not possible in standard two-handed massage sessions.
What massage techniques are used?
Typically, the therapists will use a combination of different massage techniques, for example, Swedish (long, flowing strokes) with a variety of light finger pressure (shiatsu) and deep tissue motions. This varied mix is designed to relax the mind and body. Clients can tailor the sessions to their specific needs – for example, if they want attention to a particularly sore area of the body, so the therapists can adapt to this.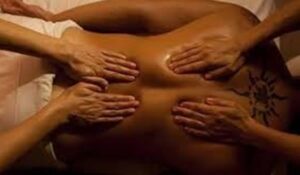 Why does a Four Hands massage feel so good?
Many people enjoy a 4 Hands massage because it's so intensely relaxing. The feeling of having two therapists work on you is very enjoyable, and you feel completely pampered and special. However, for massage newbies, it can be a little daunting and intimidating. The sensations are so relaxing that they can be interchangeable with pleasure, so it can take some time to get used to. Good, flowing communication is vital between the client and the therapists, so don't be afraid to speak up!
Those who are modest may find the 4 Hands experience a bit uncomfortable. Unlike the standard massages, the draping of towels is limited, because double the numbers of hands are involved and the therapists need to be able to access a larger surface area. As a result, there may be little skin left hidden. The masseuses are professionals though, so there's nothing to be embarrassed about. However, if you are too uncomfortable, you can wear undergarments or even clothes. Although direct skin to skin contact makes for the best experience, your mental and physical comfort is vital for a massage to be properly beneficial.
Final tips
When you find a spa or parlour that offers a four-handed massage service, you may want to take some time to learn more about the masseuses. Don't be afraid to be curious and ask the staff lots of questions. Here are some good questions you should ask:
Where they studied
How long they studied for
How long they've been qualified and practising
What is their approach to massage therapy
You should also ask around family and friends for recommendations to find a good four hands massage therapy provider. Enjoy!