The Secrets Of 4 Hands
liam
Why has a four hands massage become so popular?
Four hands massage has taken the U.K by storm over the last number of years, with more clients keen to try it; there is a huge demand in London for this unique service. A four hands massage is much like a regular erotic massage apart from the fact that it is performed by two masseuses rather than one, and it also feels ten times better. Double the hands, double the fun!
I decided to get a more in-depth take on what exactly goes on in a 4 hands massage and what it feels like for each party involved. I have interviewed Amber and Yuki and their regular client Ravi, to ask the questions about four hands massage that we all want to know. Meet our beautiful masseuses Amber and Yuki, and our loyal client Ravi…
Amber –"I started to perform 4 hands massage a number of years ago when I first came to the U.K from Japan to work as an erotic masseuse. Originally, I only performed it every so often because not many of our clients asked for it. However, over the last year, it really has increased in popularity so it has become a part of my daily routine as a massage therapist. Beforehand I used to perform it with whatever masseuse was available at that time too, but sometimes we did not have chemistry or our massage techniques were different, so it did not flow too well. However, I and Yuki performed it together one evening for a regular customer Ravi and he complimented how well we worked together which inspired us to work together as a four hands team."
"We practiced a lot together beforehand to make sure our movements mirror one another which ultimately makes it feel a lot better for the client. We make eye contact and help one another, I guess it makes it a lot more enjoyable for the man if the two masseuses have a bond and feel comfortable with one another. Also, after performing solo massages all day, sometimes it is nice to have that extra bit of help and that's exactly what a four hands massage provides you with."
Yuki – "I had not performed a 4 hands massage until my first experience with Amber and I fell in love with this massage style right away. There is something very magical and intimate about it and I can see that it feels a whole lot better for the client overall. It is also very arousing for us seeing our customer enjoying themselves so much; of course, we get turned on too."
"I usually take the lower half of the body, massaging the buttocks, thighs, calves. I also perform the prostate massage if that has been requested as part of the service. While I am doing this, Amber is usually massaging the shoulders or back at the same pace as I am. We work together extremely well and it always pays off when we see how much our customers gain from the extra two hands tending to their body and every need. "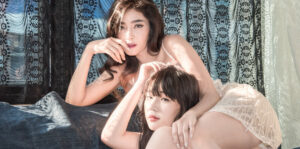 Ravi – "Four hands massage is definitely my favourite therapy to get done when I visit my local massage parlour in Central London, because of how incredible Amber and Yuki work alongside one another. The girls have really practiced hard and worked up a very good routine which feels amazing for me. The best thing about a 4 hands massage is how they work on so many different parts of your body at the same time; this brings you intense levels of pleasure. The girls have a very good bond, and even though I have had various 4 hands massages before, these two girls definitely work the best together. They know the importance of a four hands massage and understand how intense they are for the client. They take their time to build up the pleasure which makes the orgasm a lot better when you reach the point of climax."
Book a four hands massage with us today!
If you would like to book an appointment with Amber and Yuki, or any of our beautiful masseuses then please contact us via SMS, phone call or email. We have many different locations across Central London and we are open daily between 10 am until 3 am. All of our girls offer an amazing four hands massage London experience, so what are you waiting for? All you need to do is pick the two special ladies you want to perform this unique massage experience on you.