Spice Up Your Relationship With A Nuru Massage!
liam
'Nuru' is a Japanese word that means slippery. A nuru massage is an erotic massage style that involves full body and naked skin to skin contact between the two partners. The masseuse slides their body against their partner's skin, using a special nuru massage gel as a lubricant. A nuru massage awakens the senses, arouses the body and often brings the recipient to orgasm without the need for penetration. It's perfect for couples who want sexually pleasure their partner without actually having intercourse, and it's a welcome change from the typical oral acts. Interested? Read on…
Preparing for the massage
Preparation is key for this style of massage. Make sure you have all the relevant products. You'll need the proper massage gel. Oils won't cut it. Nuru massage uses a specific type of gel that's made from the Nori seaweed – the kind that's used in sushi. Fortunately, this gel is odourless, colourless and doesn't stain. It is, however, incredibly viscous and when mixed with warm water, becomes more liquid-like and extremely slippery. The nuru gel works best when warm, so float the bottle in a bowl of hot water. You will also need another bowl of warm water to mix the gel with.
Even though the gel doesn't stain or smell, be aware that this massage style is quite messy and can soak your bedsheets. If this isn't an issue, you can perform the massage on your bed. But ideally, a nuru massage is performed on firmer surfaces such as an air mattress or even the floor. You need somewhere roomy so you can freely manoeuvre yourself over your partner's body. You can also purchase authentic nuru massage sheets to protect your bedding or use plastic sheets. Either make cleaning up much easier!
Now you have everything that you need for the massage, set the mood. Dim the lights, make sure the room temperature is on the pleasant border of cool and warm, light some candles and put on sensual relaxing music.
Just before the massage, enjoy a warm shower or bath with your partner. The nuru gel works best on clean, warm skin. Take time to properly relax your partner by sensually rubbing soap over them and rinsing it off. Then, dry each other off and mentally prepare yourself for the nuru massage.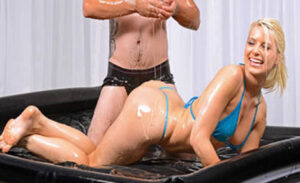 Let's massage!
Begin by sensually applying the gel to your own body. Invite your partner to watch and take your time as you drizzle the oil onto your skin. It'll be very arousing. Then, ask them to lie down on their front and begin to apply the gel to their body. Once you're both quite slippery in nuru gel, straddle their back and ask your partner to close their eyes and concentrate on the experience. Then, begin sliding your body along theirs.
As you slide the length of your body along theirs, use your arms for balance and to massage protruding body parts such as the arms. Gently knead their aching muscles. As you gain more confidence and get into the swing of things, seductively grind your pelvis, sexual areas and buttocks against your partner. Lead forwards and rub your breasts against them. No-one's watching, so you can be as wildly seductive as you'd like to be.
When you're ready, get off your partner and roll them over onto their back. Ask them to keep their eyes closed so you can really amp up the sexual tension. Now that you're both facing each other, things can really heat up. You can slide and grind your sexual areas against theirs, and your partner can touch you. Slide your slippery way towards orgasm.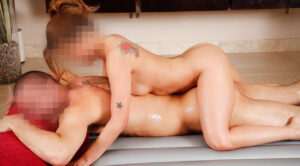 Last-minute tips
Communication is key so make sure you've discussed the limits of this massage (e.g. will you end in intercourse or will you keep it non-penetrating)
Don't be afraid to giggle
Stay relaxed
Be slow and gradually build up temptation
Confidence, confidence, confidence
Have fun and let go!
Try a professional Nuru massage
If you're interested in trying our Nuru massage North London with a professional masseuse, then be sure to book yours with us at VIP Outcall massage. We are a highly respected authentic Asian erotic massage service in London. We offer a wide range of erotic massage styles using highly trained therapists from £130 an hour. Be sure to check our blog post comparing Nuru with Tantric at https://vipoutcallmassagelondon.net/tantric-massage-vs-nuru-massage-better/