How And Why A Tantric Massage Can Save Your Marriage
liam
A tantric massage is one that is based on the art of Tantra. Touch and sensuality play a main role in tantric massage therapy, but it's also very rooted in slowly embracing your sexuality and accepting your karmic fate.
Tantra as an ancient ritual
Tantra is an ancient Hindu practice that dates back to 5AD, and is arguably one of the most disused branches of the religion's spiritual rituals. Tantra first came about as a form of meditation that was meant to maintain a constant mental state of calm in order to reach new spiritual levels of consciousness.
Tantra, which is a combination of the words "tattva" and "mantra", is a ritual that uses the cosmic sciences to guide the body and mind towards a higher level of spirituality. Because of its spiritual nature, many people viewed tantra as an obscene art that was fused with black magic. But this was a misconception – tantra is actually a part of the Vedic practices and is linked to Lord Shiva and Goddess Shakti. Tantric massage evolved as a manual therapy version of tantra, using physical touch as a way of simultaneously relaxing the body and mind. The practice is extremely popular across Asia and is expanding in demand across the continents of Europe and America.
Tantra as an erotic massage
Tantric massage is a style of erotic massage that focuses on creating intense pleasure. It works to re-balance the body's energies and reconnect the body, mind and spirit. In doing so, the energies of the masseuse and the receiver will be connected and this creates a strong bond between the two, or if a bond already existed, intensifies it. Because of all of this energy exchange and re-balancing, tantric massage is one of the slowest and most ritualistic erotic massages.
A tantric session will usually open with a series of breathing exercises, sitting opposite each other, holding hands and reciting mantras. This shared experience begins to build the connection between the two parties.
Then, there will a full body massage where the masseuse will slowly and deeply massage the primary stress zones such as the shoulders, neck, back and thighs. When you're fully relaxed, she'll proceed to sensual, light touches and gently stroke your body, deliberately neglecting the sexual areas. This will build arousal and anticipation. When she finally does touch your sexual areas, you'll be so deeply aroused, it may seem like ejaculation is right around the corner. But the masseuse will slow down and stop just in time, so your body will feel all of the pleasure but none of the energy wastage.
Tantra preaches that the human body is full of valuable energies and blockage or imbalance leads to illness. Tantric massage helps to stimulate efficient flow of the energies, but ejaculation leads to energy loss, so the stop-start nature of tantric massage teaches men how to control their pleasure. When they have finally mastered their ejaculation, they can experience multiple orgasms and greater pleasure.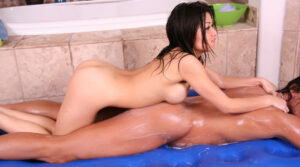 Tantra as the marriage saver
Relationships tend to break down and it's not just time that's the killer. Most of the time, it's due to a loss of spark and chemistry. Whether we like it or not, sex is a major part of a relationship and without chemistry, a marriage will just feel flat and unfulfilling. Tantric massage can reignite that fire. As an erotic massage style, it focuses on arousing the body, using specific points on the body to excite the senses and pleasure the mind. Because it's such a slow process, the masseuse can help you pinpoint which areas of your body are pleasurable (it might even surprise you) and show you techniques that turn you on, which you can later share with your partner.
The massage is also heavily focused on 'edging', which is getting close to orgasm and backing off so you hold yourself at the 'edge' for a prolonged period of time. This is what makes tantric massage such a lengthy but intensely pleasurable experience. Edging will help improve sex drive, reduce sexual impotence and premature ejaculation, so you can share a better sexual experience with your partner.
Tantric massage is all about energy re-balancing and forging connections. When you try one with your partner, you can intensify the bond between both of you and create an emotional and spiritual connection as well as a physical one. There's also a biological explanation for this – arousal and orgasms facilitate the creation of long-lasting relationship bonds due to the mixture of endorphin's and hormones.
The final say…
We know – giving your partner or allowing yourself to try a tantric massage at the hands of a therapist does feel a lot like cheating. But this is a popular misconception. Erotic massages are not the seedy, sleazy encounters they're portrayed as in movies. Erotic massage is a misunderstood art form. The therapists are professionally trained masseuses and although they may touch your sexual areas (as opposed to standard masseuses like shiatsu therapists who do not), they still maintain a particular level of professionalism.
Once you manage to get your head around this and have faith that it's for the greater good of your relationship, a tantric massage can help you salvage your marriage.
If your serious about rekindling a lost flame or reigniting the passion back into your life then why not try a soul awakening Asian outcall massage in your hotel with one of our gorgeous and stunning petite masseuses who would be more than happy to show you the way.