Tantric Massage VS Swedish Massage
liam
Tantric Massage versus Swedish massage a head to head.
Erotic massages have a damaging reputation and are often misconceived by most, when in reality; they're not too dissimilar from classic styles. Although sexual in nature, erotic massages are as helpful, if not more so, than standard massage styles, but are often clouded by negative stigma. But you know what they say; the apple doesn't fall too far from the tree, and we are here to prove that.
What is a Swedish massage?
Swedish massage is probably the most common and well-known type of massage in the Europe, and is often used as a foundation for most other styles. It is a fully-body relaxing massage, meaning all areas of the body are covered, including the limbs, torso, neck, shoulders, head and chest. Known as the 'classic' massage style, Swedish massage is made up of techniques such as stroking, gliding, kneading, rubbing, tapping, pounding or vibration. All of its ingredients make for a truly relaxing experience.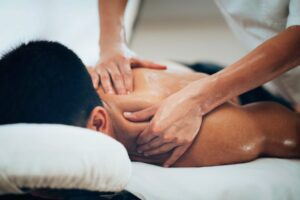 What happens during a session?
Before the massage, the therapist will ask about existing injuries or conditions that could be worsened by the massage. Alternatively, the masseuse would like to be made aware of certain areas that need particular attention, such as the back, so that they are able to give you the most effective massage possible. Although the masseuse is the expert, this massage is not strict in its practice; clients are able to voice their preferences in terms of pressure.
In every Swedish massage, therapists use special massage oils to lubricate the skin, making various techniques and strokes more fluid. These techniques warm up the muscle tissue and release tension by gradually breaking up muscle knots and adhesions. The massage can be as hard or as soft as you choose it to be.
What are the benefits?
People seek out Swedish massages for various reasons, but the leading benefit is its ability to relax the mind, body and muscles. Whether you're incredibly stressed or suffer from health issues such as back problems, getting a Swedish massage would be the solution for you. Ultimately, it's great for the body, especially if you're worn down with knots and tension.
Do you have to be nude?
Generally speaking, most people are nude during the massage but are covered by a towel or sheet. Using a technique called draping; the masseuse will only uncover certain parts of the body when she is working on them.
It is erotic?
Swedish massages are not typically erotic and do not focus on erogenous areas of the body. However, many erotic massages do begin with Swedish massages in order to relax participants. This dynamic massage is easily adapted to fit into the erotica if that's something you'd like to experiment with.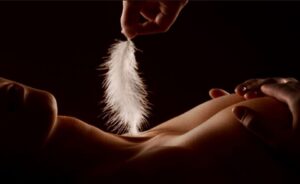 What is the average cost for a 1 hour session?
Although costs vary, the average cost for a one hour session in the heart of London is between £40-£80. This cost can also increase depending on whether you opt for the outcall service.
What is a Tantric massage?
This is an erotic style of massage that uses sexual energy to achieve a heightened state of mindfulness. Skilled Tantric masseuses use sensual and gentle touch to awaken the chakras (energies) within the body which allows the participant to experience a full body release. Tantric massages were created out of Tantra, an ancient, sacred practice which aims to reconnect the mind, body, soul on a spiritual level.
What happens during a session?
Although non-sexual, all Tantric massages begin with a full body, Swedish massage which is used to relax the clients mind and body. Once calm, the masseuse will begin to locate erogenous areas across the body and will begin to touch and caress them. These areas, such as the chest, breasts or inner thighs are accessed because they are physically pleasurable. Believe it or not, experiencing pleasure and orgasms isn't just healthy for the mind, its actually physically beneficial too, which is why a Tantric massage incorporates relaxation with pleasure.
Similarly to the Swedish style, Tantric massages are incredibly slow and sensual. Whilst Swedish massages focus on undoing tension, Tantric massages concentrate on gradually building up arousal. The masseuse will target the client's erogenous and intimate areas and will proceed to stimulate them using specific techniques which are designed to unlock the ultimate pleasure. Although reaching an orgasm is not the aim of the session, it is an encouraged and welcomed side effect. It is the best way to experience a toe curling, mind-blowing release.
What are the benefits?
Like Swedish massages, Tantric are physically beneficial. As well as soothing the muscles, Tantric massages are unprecedented in terms of relaxation. Sexual stimulation actually encourages certain chemicals, such as oxytocin and serotonin to produce, which are known for improving happiness. As well as this, orgasms are known to improve blood flow and the function of vital organs. Tantric massages are holistically cleansing and healing.
Do you have to be nude?
In comparison to the Swedish style, yes, you are expected to undress. However, in contrary to the classic method, the masseuse will endeavour to remove the towel completely as the massage progresses. Because Tantric massages so involve stimulation of intimate areas, a towel or sheet will hinder the masseuse's access to these areas. However, it is important to remember that the masseuse will gradually move the towel, and will only do so once you're completely relaxed and comfortable with it.
Is it erotic?
As you're already probably aware, yes, Tantric massages are built upon an erotic basis. Although they do not traditionally involve penetrative sex, they do incorporate sexual play. It is important to remember that Tantric masseuses are not prostitutes; they are fully trained professionals who are skilled in the art of Tantra. The sexual nature of the massage is only one component of it.
What is the average cost for a 1-hour session?
It's fair to say that an hour-long Tantric massage in London will cost significantly more than a Swedish massage; however, this is all relevant to the benefits. Although Swedish massages are a great method of relaxation, these benefits are generally short-term. Tantric massages, on the other hand, are incredibly spiritual and exposing (mentally and physically) offer long-lasting benefits. Think of them as a massage and therapy session rolled into one- that is what you're paying for. That said, an hour long session costs on average, £120-£200 per hour, but it's worth every penny.
So there you have it, our break down or two of the world's most popular massage styles. As you can see, both styles possess stark similarities and differences, but it's up to you to decide which style is right for you.