In Focus Prostate Massage Therapy
liam
As many homosexual men are already well aware, the prostate gland holds a very important and significant role in sexual activities. However, this blog post is for all of you heterosexual men who have yet ventured to this part of their body because they feel as if it is not very "hetero-normative." Let me tell you sir, abstaining from anal play due to fear of being judged or because you think it is only something that gay men participate in is stopping you from experiencing some of the most powerful and intense orgasms you could possibly have!
What exactly is a prostate massage/the prostate gland?
A prostate massage focuses on the prostate gland, which is mostly made up of muscle tissue and is situated near the bladder of the male anatomy. The prostate gland's main purpose is to get rid of fluids that come out along with semen. The prostate gland is most in use during the moments before a man has an orgasm or reaches climax. The prostate gland can be massaged in two ways, by either inserting a finger inside the anus in a hook-like shape and rubbing gently or by kneading your knuckles along the perineum gently but firmly.
The male G-Spot
The male G-Spot is known to be located inside the anus, very close to the prostate gland, which is why it feels so good and pleasurable. Many men who have regular prostate massages do so because it apparently brings them intense anal orgasms that are more powerful and longer-lasting than penile orgasms.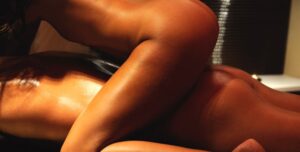 How to prepare for a prostate massage
Due to the location of the prostate gland and the fact that it might be the first time many of you have tried any sort of anal play, it is essential that you plan and prepare properly before you try it out. Here are some tips on how to get ready for a prostate massage –
Make sure you are clean! Due to the fact that the giver has to insert their fingers through the anus, or very close to that area it is important that you make sure that you are clean. Not only is this essential for hygiene reasons, but it also makes the experience more pleasurable and comfortable for both participants.
Do not eat spicy food before your massage session; the last thing you want is to need the toilet urgently during your prostate massage. Make sure your bowels are empty and that you are well hydrated before you begin. It is always helpful to have a towel or wipes close by.
Make sure you are calm and relaxed, this will help to relax your muscles and ensures that the prostate gland is not being tensed as this will make it more difficult to reach and to pleasure.
It is important that you have plenty of lubricants available to use before you start as prostate massage therapy could be quite painful without it, especially if it is your first time trying it. We suggest using as much lube as possible as this will maximise pleasure!
Why prostate massage could help your sex life
It is very common to lose that spark and attraction to your partner when in a long term relationship, and things in the bedroom can get repetitive and boring which can then lead to a sense of lost connection. If you are experiencing distance from your partner due to things not being so heated in the bedroom anymore then prostate massage therapy might be able to help you. Firstly, as it is not a common sexual activity within heterosexual couples, trying a prostate massage can be fun and exciting because it is something new. This sense of adventure will help you to learn more about one another as it requires a lot of communication. The great thing about a prostate massage is that it also enables couples to try role reversal which can be very exciting and fun.
Booking a prostate massage
If you are based in Central London, or maybe you are visiting for a few days on business or pleasure, why not book your first experience of a prostate massage with us? We are open daily from 10 am until 3 am, therefore your visit with us will always work around your schedule, no matter how busy you are.
We have various different branches across the city that are based in discreet and private areas that are well located from local transport links such as popular tube and rail stations. As well as providing our customers with incall locations that you can come to, we also offer outcall services across the city. Therefore, if you would prefer for the masseuse of your choice to visit you in the comfort of your own home or hotel then all you need to do is book with us 1+ hour in advance.
If you have any questions or queries regarding our prostate massage London or you want to book an appointment then you can contact our friendly receptionist team who can assist you quickly and efficiently.