External Prostate Massage – Why You Should Get One
liam
If you've ever heard of a prostate massage before, you'll be aware that there are two ways to go about it: Internally and externally. Most men are more inclined to opt for the external method because they are usually apprehensive about experimenting with anal play- understandable. Although the prostate gland is internal, masseuses are able to access it externally through the perineum- the area between the anus and testicles, but using various massage techniques. Although this method does lack the same health benefits as an internal massage, it's still an incredibly powerful style of massage; and more importantly, it feels great!
How to go about getting an external prostate massage
For you men out there who want to experience a different kind of sensation but are against penetration, this is the best thing to try. For maximum results, we would always recommend hiring a professional masseuse who is fully trained and experienced in this style of massage. Although it might be slightly intimidating at first, your apprehensions will swift depart when you're experiencing toe curling pleasure. On account of the nerves, most men seem to use outcall services because they're far less daunting. Using this kind of service means you'll be able to experience your massage in the comfort of your own home, in an environment you're familiar with.
Alternatively if you're feeling brave, why not trying to do it yourself? The difficulty with personally performing an external prostate massage is that is can be awkward to comfortably position the body. Accessing the perineum can be difficult if you're not flexible, but it's not to say it's impossible of course. It'll just mean that, at first, you might find the massage more awkward than pleasurable. But nothing worth doing comes easy, right? If you're up for the challenge, be sure to trim your nails to avoid scratching yourself. The perineum is an extremely sensitive area of the body, so catching the skin will give you one hell of a fright to say the least!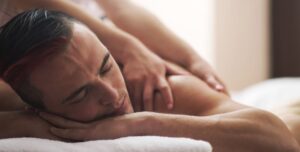 What prostate massage techniques to use
To start, use your hands to locate the strip between the testicles and the anus- most people know this area as the 'gooch'. Once you've identified it, use the pads of your fingers and gently apply some pressure to the area. If you are able to locate a spot with a slight depression, focus on this point as it's particularly sensitive. Whilst applying some pressure, run your fingers back and forth over the strip to unlock various sensations. If performed correctly, you'll most likely achieve an erection within minutes and then an orgasm further down the line. It'll be a brand new sensation, and for plenty of men, it's often more enjoyable then penis stimulation.
However, if for any reason you begin to experience any pain or discomfort, stop immediately. The perineum is sensitive, and an incorrectly performed prostate massage could result in long-lasting injuries. The chances are you're just applying too much pressure, but you might find that you've got internal issues linked to the prostate that do actually need dealing with internally. If you think this might be the case, seek advice from a doctor who will recommend relevant treatments. If, however, you come to realise that you're just doing incorrectly, contact a masseuse- you won't regret it, trust me.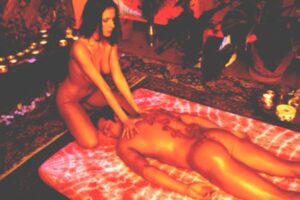 They're the path to pleasure
Although internal prostate massages are highly sought out by men of all ages and sexuality, they can be a daunting prospect if you've never ventured near the back door. If it, however, this is something that's always fed your curiosity, external prostate massages are a great way to ease yourself into it; they're the stepping stone to internal pleasure. So if you're feeling a little nervous, don't just dive in head first, book in for an external prostate massage first. we offer a range of outcall prostate massage services across London for those who are keen to try a new kind of pleasure. This types of massage can be tailored to your individual needs depending on your level of comfort and experience, so if you want to experience the greatest external prostate massage London then be sure to book your massage with one of our angels. you can also call us on 07920426076.